Prince and Grand Master of Sovereign Order of Malta pays courtesy call on PNoy
03/03/2015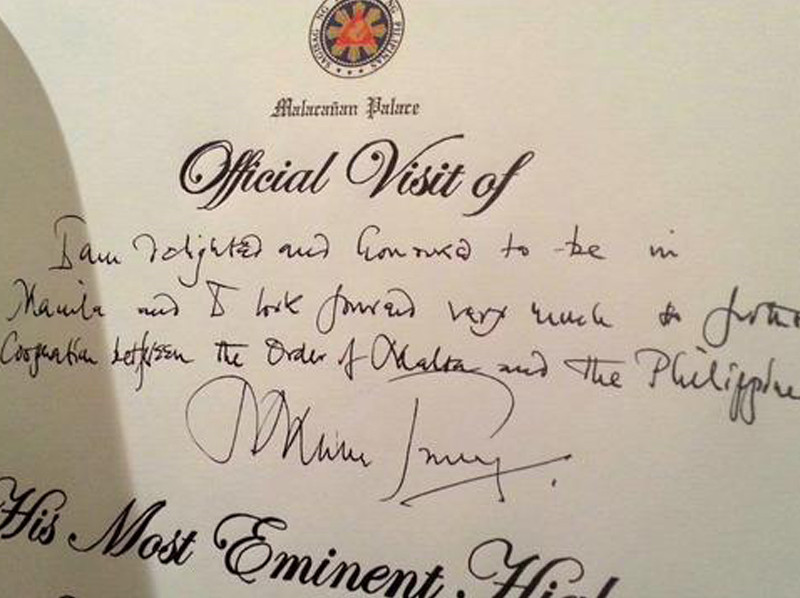 The head of state of the Sovereign Military Order of Malta paid a courtsy call on President Benigno Aquino III on Tuesday morning as part of his seven-day official visit to the Philippines.
Fra' Matthew Festing, Prince and Grandmaster of the Sovereign Hospitaller Order of St. John of Jerusalem of Rhodes and of Malta, arrived at the Malacañan Palace Grounds at past 10:45 am.
Aquino and his Cabinet welcomed Festing upon his arrival. Like all visiting heads of state, Festing was also accorded full military honors.
In the message he wrote on the Palace guest book, Festing emphasized the partnership of his sovereign state and the Philippines.
"I am delighted and honored to be in Manila, and I look forward very much to further cooperation between the Order of Malta and the Philippines," Festing said.
PHOTO: Inscription of Matthew Festing, Prince and Grand Master of the @orderofmalta, in the Palace guest book. pic.twitter.com/FNpvgtqLri

— Official Gazette PH (@govph) March 3, 2015
Earlier in the day, the Malta head of state offered a wreath before the monument of Philippine national hero, Dr. Jose Rizal, in Manila. He was joined by former President and current Manila Mayor Joseph Estrada.
Festing's visit marked the 50th anniversary of the establishment of diplomatic ties between the Sovereign Military Order of Malta and the Philippines.
Aquino will hold a 30-minute meeting with Festing to discuss ways to strengthen bilateral ties between the two states.
Festing is also scheduled to turn over to Aquino a symbolic key of 700 newly constructed houses for survivors of Typhoon Yolanda (Haiyan) in Basey, Samar and on Bantayan Island, Cebu.
Festing is the fourth head of state to visit Malacañang this year. Before him, Vatican City's Pope Francis, Indonesian President Joko Widodo and French President Francois Hollande also paid courtesy calls on Aquino during the past two months.
Source: GMA News