Order of Malta Reflects on the Eucharist for November Spiritual Formation
16/11/2017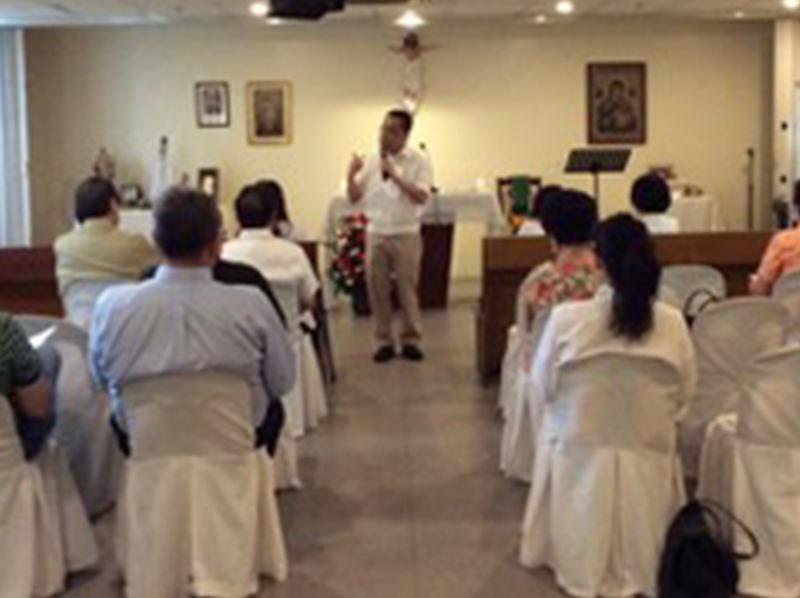 Christ makes himself available through the Eucharist.
This was the main reflection point of Rev. Fr. Genaro O. Diwa during the Spiritual Formation of the Order of Malta Philippine Association held at the HMI Building, Makati last 16 November 2017. Don Ernesto and Doña Josefina Rufino were the hosts for the event.
In his short talk, Fr. Diwa read the gospel account of the Walk to Emmaus and then asked his listeners to ponder on the mystery as to why the disciples failed to recognize Christ.
"How did the two disciples finally recognize Christ? It was only when He took the bread, said the blessing, broke it, and gave it to them, and then their eyes were opened. They recognized Him not through his physical presence but through His actions," Fr. Diwa said.
Fr. Diwa explained that these are Christ's Eucharistic actions, present in all accounts of the Multiplication of the Loaves and the Last Supper.
"This is the ID of Christ. And those actions are carried on today through the Holy Mass. From that time on until today, Christ makes Himself available in the celebration of the Eucharist," said Fr. Diwa.
For Fr. Diwa, the Eucharist also trains us to possess extraordinary faith to see Christ in the charitable works of the Order of Malta.
"It requires so much faith to see beyond the bread and recognize Christ. Similarly, whenever we work as an Order, it is the same faith that we are using whenever we follow Christ's command of 'whatever you do for the least of my brothers, you do unto me," Fr. Diwa said.
The spiritual formation sessions of the members of the Order of Malta Philippines dates back to 1948 during the establishment of the Order in the country. A more intensive and regular spiritual formation started in 2007 upon consultation with its Magistral Chaplains Msgr. Esteban Lo and Fr. Diwa. Through the activity, the Knights and Dames are expected to appreciate their membership in the Order as a means of sanctification and spiritual revitalization.
Don Eric and Ms. Virginia Nicolas will host the Spiritual Formation next December at Ayala Alabang, Muntinlupa. The Order's Christmas gathering will follow after the session.