Order of Malta Philippines Marks First World Day of the Poor
19/11/2017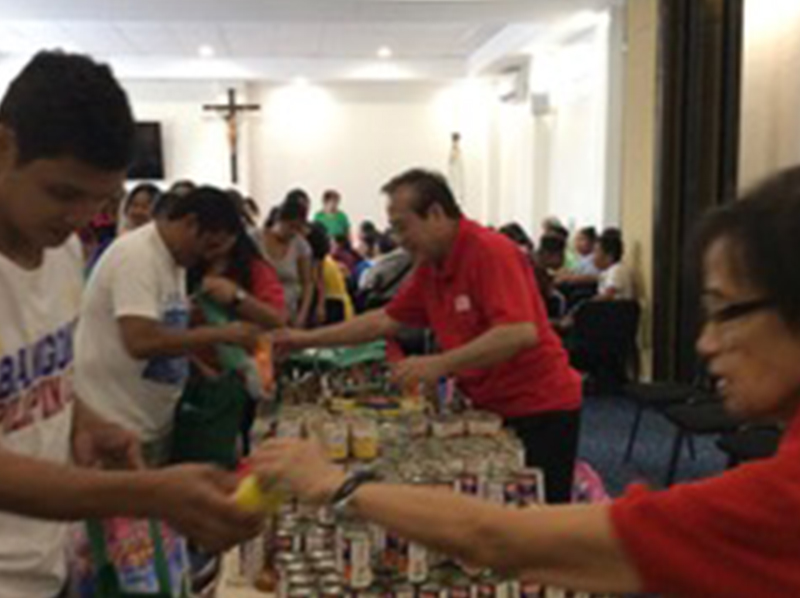 Last 19 November 2017, the Catholic Church marked the First World Day of the Poor. His Holiness Pope Francis declared the nineteenth of November every year as a reminder for Catholics to love the poor "not with words, but with deeds."
In response to the Holy Father's call, the Philippine Association of the Order of Malta conducted a feeding program for 100 beneficiaries of fire victims living in Barangay San Miguel, Manila.
The beneficiaries were parishioners of Rev. Fr. Genaro Diwa, Conventual Chaplain ad honorem of the Order of Malta. Fr. Diwa is also the parish priest of St. Michael and the Archangels located inside Malacañang Complex.
Among those who attended the feeding program were Dr. Leopoldo Lazatin, President of the Order of Malta Philippines, Don Eric Nicolas, Order of Malta Hospitaller and Dames Maria Lourdes Benson, Virginia de Leon, and Maria Picornell y Garcia.
Besides being served lunch, all of the 100 beneficiaries received 5 kilos of rice and several items of packed and canned goods for their families.
In his message to the beneficiaries, Fr. Diwa acknowledged that the project is just a simple gesture yet it is still a noble attempt to exercise mercy and compassion. Fr. Diwa then contextualized the project by explaining that the Order has conducted a number of medical missions for the parishioners this year.
As a response, Dr. Lazatin told the beneficiaries that gratitude for the packages they will be receiving should be attributed to God alone. He also thanked Fr. Diwa for his kind words about the Order of Malta but clarified that it was the Order that should thank Fr. Diwa.
"The Order of Malta did not adopt San Miguel Parish, it is the Parish that adopted the Order so that we could serve our brothers and sisters," said Dr. Lazatin in Filipino.
The project parallels a feeding program done on the same day by Pope Francis where he hosted a luncheon for 1,500 of the very poor at Paul VI Hall in the Vatican. A total of 150 volunteers helped serve lunch to the beneficiaries, many of whom were members of the Order of Malta.
In his message to mark the event, Pope Francis desired that acts of charity should "lead to a true encounter with the poor and a sharing that becomes a way of life."
According to the international website of the Order of Malta, the Order's Grand Hospitaller, in responding to the Holy Father's call, circulated his message among the Order's members and volunteers, noting that the World Day of the Poor would be observed around the world every year on the 19th of November as a way of living out the Order's charism of 'Obsequium Pauperum' – the global commitment in favour of people in need.