Emergency Relief Mission to Mayon
07/02/2018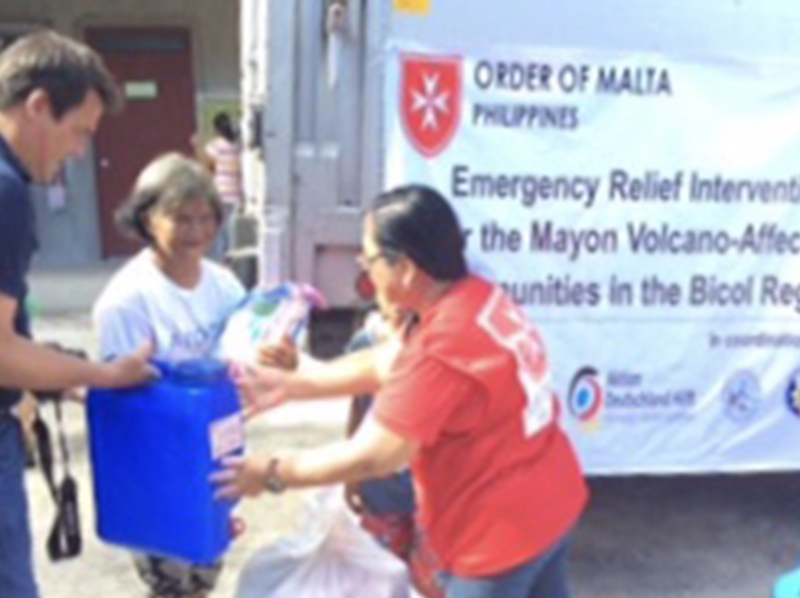 On the afternoon of the 13th of January 2018, Mount Mayon in Albay eupted spewing grayish steam and ash reaching almost about 3 kilometers and affecting communities of Guinobatan, Camalig, Daraga and Tabaco.
An Alert Level 4 was declared and because of the continuous seismic activity, lava and pyroclastic flow as well as intermittent summit eruptions, ash and rock fall, the residents sffected by this natural disaster had been forced to evacuate their families especially within the six-kilometer Permanent Danger Zone to safety in evacuation centers. Resulting from these mass evacuations, identified schools used as evacuation centers became congested. As of January 23, 2018 the PDRRMC released an official count of a total of 14,241 families or 56,217 persons in 46 barangays had been affected.
The Parish Commissions on Social Concerns sent an appeal for help for the concerns of families in the evacuation centers. Their needs list composed of non-food items (sleeping mats, mosquito nets, blankets, face masks, hygiene kits, firewood); food and water and additional toilets and communal kitchens. Likewise the National Commission on Indigenous Peoples sent also their request for assistance especially for their tribal communities also affected by the natural disaster.
The Order of Malta Philippines heeded the call for assistance from the National Commission on Indigenous Peoples of Region 5 in particular the Agta-Tabangnon relocated at the Mayon Elementary School and Ati Tribes at their San Andres Community in Tabaco Albay and from the Diocean Action Center (DSAC) – Diocese of Legazpi for families housed at the Tabaco National High School, also in Tabaco City to facilitate distribution.
True to its charism, the Order of Malta Philippines organized an emergency relief mission with Malteser International. The Order's Manila Team left Manila at dawn of January 25 and headed towards Tabaco City while the Malteser International Team travelled from their project site in Catarman, Northern Samar. Both groups pooled resources together to accomplish this mission in one day with the assistance of local partners and volunteers in the field.
Prior to the distribution schedules set for the day, the Team composed of the Order of Malta Philippines group headed by Cecilia R. Piñones with the Malteser International group headed by Jan Emmel and the National Commission on Indigenous Peoples headed by its Regional Director Ms. Lee Arroyo, made a courtesy call to the Honorable Mayor of Tabaco City, Krisel Lagman-Luistro. During the meeting, the program plan was presented to her, the composition of the relief package (food, non-food and hygiene kits with 2 jerry cans and 2 pails with cover, masks and medicines) with cost amounting to P 3,748.35 per relief pack to given to 500 households in identified evacuation centers. The Honorable Mayor discussed with the group the need for a long-term plan for the evacuees because she said that unlike typhoons which lasted only for days, a situation like this forced the evacuees to stay in safer grounds up to 3 – 4 months. She also mentioned about the need for more evacuation centers (as Mayon eruption is not only a one-time thing), create more awareness among the people, livelihood programs while they are in the evacuation centers and trainings especially on health and hygiene (sanitation issues) which became a problem presently because of congestions and privacy. At the end, she acknowledged and thanked the Order of Malta, Malteser International and the National Commission for Indigenous Peoples for the assistance provided, the first INGOs that made their presence in this area for relief intervention.
After the meeting the teams proceeded to the distribution sites and accomplished the program plan of intervention within the day. Results as follows:
• 368 households at the Tabaco National High School Evacuation Center
• 94  households of Agta-Tabangnons at the Mayon  Elementary School Evacuation Center
• 17 households of Ati Tribal Community from San Andres, Sto. Domingo, Albay
• 17 households of IPs at the Buang Community, Tabaco City
• 4 households of IPs at the Bantayan National High School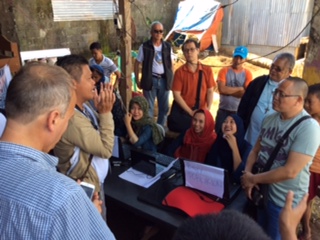 A total of 500 households or about 2,500 individuals were reached out with a P 3,748.35 worth of relief packs composed of Food items: rice, canned goods, noodles and water; Non-food items: Blankets, mats, mosquito nets, masks, dipper, 2 5-gallon capacity Jerry cans and 2 pails with cover; Hygiene Kits: Bath towels, hand towels, face towels, bath soap, shampoo, laundry soap, sanitary napkins, toothbrush, toothpaste, nail cutters.
After this intervention, a debriefing with the NCIP and the DSAC groups followed the following day. As per record submitted by the DSAC office, only about 15% of the affected population had only been assisted by the Diocese which prompted them to request for a second round of appeal especially that as of this reporting, the volcano has still been active and resources on hand had already been dwindling. Add on to this is the livelihood of the evacuees which might had already been damaged and/or put on a hold because of the eruption. As Mang Marcelo Cañeca voiced out, "with our condition, other than that we have no source of income now, this situation makes my family more poorer because of the damage this might do to our properties". (Mang Marcelo, a 78 year old man walking with the aid of a stick, lives with his 13-year old grandson who is deaf.) He is already a widow and his son Cesar, although working in a nearby community and the father of his grandson, cannot accommodate them too, the reason why they stay in the evacuation center (already for a week and maybe for months) despite the uncomfortable surroundings they have. Despite their condition, they are but thankful for the goods that they received.
For those participating in the mission, a God-given opportunity and a venue for reaching out not only through its material worth but more so in a fulfillment of a lifetime.. all for God's greater glory!